Bouncy Castle Cleaning
Posted By: Ready Steady Bounce | Posted Date: Sunday, November 7, 2021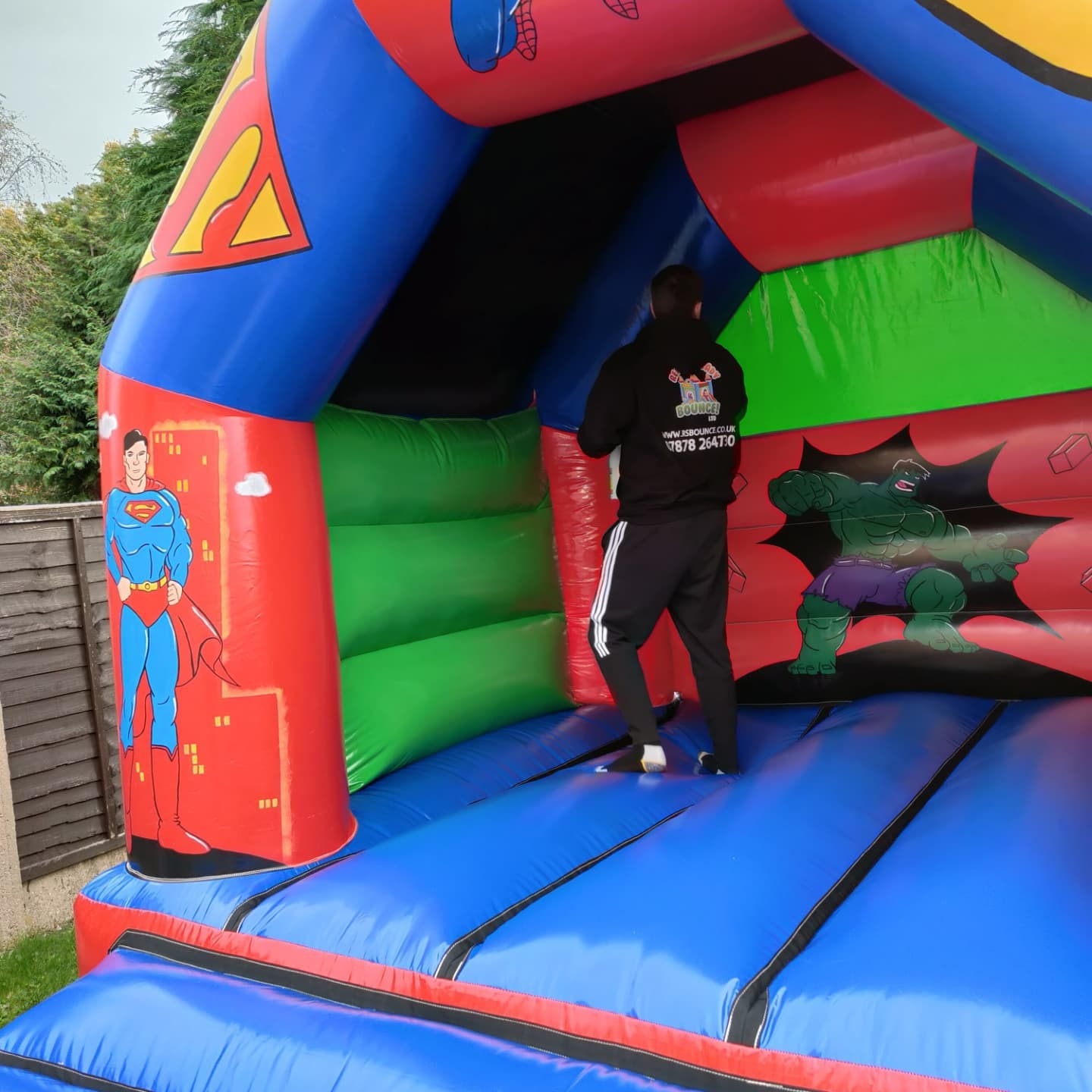 Bouncy Castle Cleaning at Ready steady bounce ltd
Bouncy castles are a great way to keep children entertained indoors and outdoors during the year, it can be a great way for a garden to used to its full benefit, however, as much fun as they can be to use, it's important to remember that they aren't just "another children's play item".
There is a lot of science and safety behind what you use to clean them, maintain them, and prevent them from becoming breeding grounds for bacteria, more so since the Covid 19 pandemic.
Here are a few insights into what we at Ready Steady Bounce Ltd do and what cleaning chemicals we use on our Bouncy castles after every hire to help make them as clean as possible:
What chemicals do we use on a Bouncy castle?
All cleaning chemicals and products have their own restrictions and limitations. For example, some of the most powerful chemicals used for cleaning will dry out the structure significantly and so we might need to add water to dilute the chemicals to provide the absolute optimum cleaning performance.
Also, any cleaners that don't list their ingredients we will not use on our Bouncy castles as we need to check what the chemicals in the cleaners themselves are before we use them, just to make sure that they won't dry out the Bouncy castle or cause any bleaching, discolouration or staining of the vinyl material.
When do we clean our Bouncy castles?
Here at Ready Steady Bounce Ltd we clean our bouncy castles after every hire to ensure that our equipment is the cleanest and safest it can possibly be.
How do we store our Bouncy castles when not in use?
Bouncy castles tend to require a fair amount of storage space even when they are tightly and skilfully rolled up, we keep them away from damp areas that can cause mould and mildew to grow on the Bouncy castles, we also store them in a dry place where there's little or no chance of dampness coming into the inflatable and spreading.
What Bouncy castle cleaning products do you use?
At Ready Steady Bounce we only use professional-grade products that are specifically designed for Bouncy castles and Bouncy castle hire, we also ensure that the cleaning product is safe for use on equipment that children will be using.
Some cheaper cleaning products can be inferior with the risk that they could damage the Bouncy castle's vinyl surface.
We also have to be careful about the risk of any chemicals running off into the soil and potentially harming the micro-organisms that live in the soil. So we always place a tarpaulin sheet underneath the inflatable when it's being deep cleaned to prevent this from happening.
The cleaner that we have been using since the Covid 19 pandemic is Clean Pro+ Antiviral Cleaner and Disinfectant, which we purchase from booker.
This cleaner is effective, safe and gentle on any surfaces they come into contact with, whilst being effective against enveloped viruses such as Coronavirus and meeting the requirements of BS EN 1276, BS EN 13697 and BS EN 14476.